17.02.21
How to Create a $1 Billion App in 11 Month or 10 Reasons Why "Clubhouse: Drop-in audio chat" is so Successful
Planning to launch your startup application? Looking for investments in your project? Not sure how to attract users?
Find out how the founders of "Clubhouse: Drop-in audio chat" succeeded in less than a year:
Launch a $1 billion startup app;
Receive $112 million in investment;
And attract 3 million users!
We reveal the secrets of success of the new voice-based social network.
What is the Clubhouse?
"Clubhouse: Drop-in audio chat" is a new mobile social network that focuses exclusively on users' voice communications. There are no video-calls, no messages, only conversations!

For those who do not know (Android users mainly) why there is such a fuss about the Clubhouse, here are some of the most significant facts:
Startup app launched in March 2020 (iOS devices only)
After 2 months (in May 2020), $12 million in investment from Andreessen Horowitz was received. The app's capitalization grew to $100 million, despite the fact that at that time the app had just over a thousand users
By December 2020, 600 thousand people are using the application
In January 2021, the second investment round took place. Axios reported another $100 million in investment. Clubhouse is valued at $1 billion and has 2 million users!
In February 2021, the number of app downloads tends to 3 million.
So, what are the reasons for the phenomenal growth in the popularity of the audio social network Clubhouse?
Reason #1 — Natural PR from Celebrities
Trigger: Ability to get closer to celebrities
People are ready for a lot to get closer to their idols. Clubhouse gives this opportunity. Being just a click away from a celebrity attracts users from all over the world.
So, for example, on January 31, 2021, after Elon Musk's tweet about a meeting on this social network, thousands of his fans downloaded the application.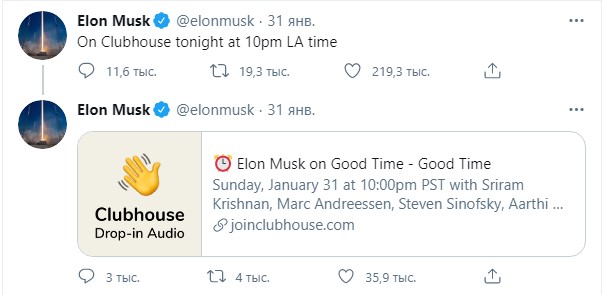 On the podcast, Elon talked about plans to colonize Mars, about the results of implanting a Neuralink chip in a monkey's brain, about cryptocurrencies, about Tesla's plans for the next 5 years, about Covid, vaccines, biotechnology and much more.
For those of you interested, here's the record of that interview: Elon's podcast at the Сlubhouse
Takeaway: Make a tool that celebrities will use and their fanbase will join the ranks of users for free.
Reason #2 — Limited Access
Trigger: People always want more what is not available.
Downloading an app on the App Store does not mean you will become a member. To do this, you need an invite from a user who is already a member.
For this reason, on the day of Elon's podcast, invites flew like hotcakes on eBay. Prices went up to $800 per invitation! Madness? And people buy, see the screenshot:

Takeaway: Limited invite check-in is a powerful tool that successfully sparks natural curiosity and turns on word of mouth.
Reason #3 — Responsibility for invitees
Trigger: We are responsible for those we invite.
This reason for the popularity of the application follows from the previous one. By becoming a part of the clubhouse ecosystem, users are able to invite 2 of their friends. This approach to building a user base allows you to maintain the quality of your audience at a high level.

Benefits of attracting users by invites:
Live audience
Deep engagement
Less spam and bots
Takeaway: in order to gather an engaged audience in an application, you need to make users feel responsible for it.
Reason #4 — People are ready to invest
Trigger: This is something new, everyone is talking about it, you need to invest in it.
Unfortunately for investors, the application is not currently on the stock market. For this reason, a funny situation happened. The investor, by mistake, began to buy shares of the Clubhouse Media Group of the same name. Thereby doubling the value of the shares.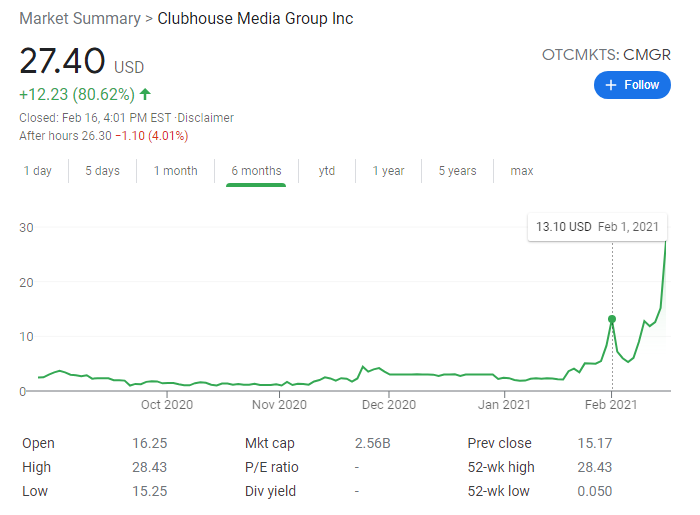 Obviously, this situation shows us the excitement around the application and the willingness of people to invest in it. Although you can't buy shares on the stock exchange yet, you can still invest in the application through the private capital market.
In two investment rounds, Alpha Exploration Co. raised $112 million.
Takeaway: investors are investing in a startup because they believe in it and, perhaps, know something that is not available to the general public – only this fact signals that the application will live.
Reason #5 — Child of the pandemic
Trigger: The application is hyping on the pandemic.
The majority in times of crisis lose money, the minority finds ways to earn money.
The Сlubhouse entered the market exactly at the moment when society needed it. Quarantine and self-isolation were the reason why the idea of a purely conversational network was accepted without objection.
Yes, you cannot correspond and exchange files there, but this is not necessary. People need conversations, and this need is successfully covered by the application.
Let's see how the Clubhouse will feel after the pandemic ends.
Reason #6 — Focused Development
Trigger: developers are focused on only one operating system, which means the quality will be at its best
We didn`t find information on which technology stack is used to develop the application. That`s why it's too early to talk about the code and its quality.
The only obvious thing right now is that the developers are focused on bringing the application to perfection on iOS devices. Of course, there will be an app for Android users, but the official release date is still unknown.
Takeaway: The founders are not trying to sit on two chairs at once, they chose to follow the path of quality and not speed.
Reason #7 — A New Look at an Old Idea
Trigger: Everything new is well forgotten old.
The clubhouse resembles Discord, only messages cannot be written in it))
It would seem that there are already a lot of applications in which users can create rooms of interest. What's so special about a clubhouse?
Virtually nothing. As the saying goes, be in the right place at the right time and the situation will do everything for you. Self-isolation and lack of communication did their job.
Takeaway: If your idea is not new, it does not mean that it is doomed to fail.
Typically, startups that make old ideas better than before are more likely to succeed than completely new ideas that still need to be sold.
Reason #8 — New podcast format
Users who actively use the application write that they use Clubhouse instead of the radio. And for many, this format fits better than classic radio.
Here you can choose an interesting topic of conversation and at any time raise your hand to express your opinion. This approach creates in the listeners a sense of closeness to the speaker. And if there is a desire to push aside the speech, then you can always create your own room according to your own rules. And it's all free!
Reason # 9 — No Ads
Trigger: the app has no intrusive ads and is completely free (for now)
If there are no ads, this does not mean that there are no plans to make money on the application. The founders have a monetization strategy anyway, but it hasn't been revealed yet.
Takeaway: the lack of monetization in the early stages suggests that the project is dear to its founders.
Reason # 10 — Skyrocketing Traffic for keyword "Clubhouse"
Trigger: Explosive keyword growth in search engines.
Lots of high-profile news from the media, celebrity podcast reports and word of mouth have boosted search traffic for "clubhouse".

The graph in Google Trends confirms the sharp rise in the popularity of the query. How long it will last is hard to say. But while traffic is at its peak, SEOs and imitators are actively using this, which spurs the popularity of the project.
Instead of totals
These 10 reasons are just some of the ingredients for the success of an application. You can try these strategies in your startup.
In the meantime, we were figuring out why the Clubhouse made so much noise, we wondered how much it would cost to develop such an application.
We conducted a detailed analysis of the user flow, created a screen map (see screenshot), described the functionality, suggested the architecture, and involved our specialists to make an assumption about how much money the founders spent on development.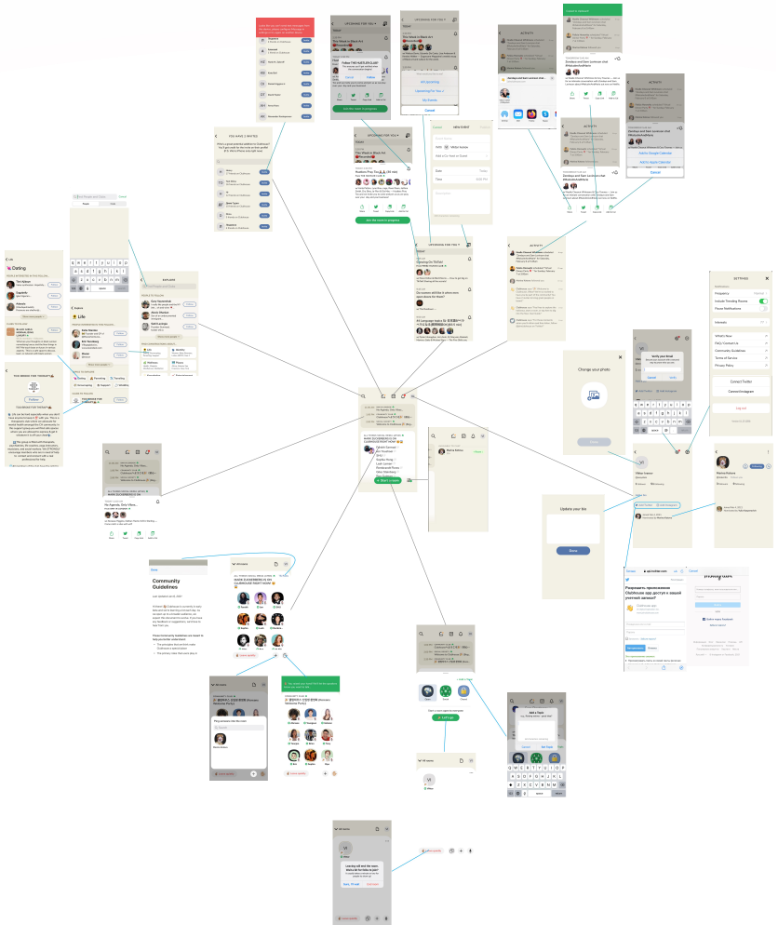 Why are we doing this?
Because the app is valued at $1 billion and we are curious to know how much it actually costs.
In the next article, we will reveal all the details of our investigation!
Curious about the cost of developing an application like Clubhouse?
Leave a request in the form below
and we will send you a file with a cost estimate