10.03.21
Best Medical Apps for Patients that Make the Doctor's Job Easier
In this decade, smartphones have played a vital role in our lives. Almost everyone has his/her smartphone. Besides having them, people perform their various tasks with the help of smartphones. However, in the field of medicine, smartphones provide healthcare mobile apps for patients.
These apps connect patients with the doctor and doctors with other doctors. With the high advancements of technology, there are multiple medical apps for patients. Now patients can easily share their medical reports with their respective doctors as well as with others. Doctors also track and discuss the patient's history with their team members.
This article is based on healthcare applications that can enhance the patient's trust. Mobile apps for patients like diabetes, obesity, and heart disease can change the patient's behaviour.
Here we have top applications that have 10,000+ downloads and great customer reviews. All the applications mentioned here have a high rating of more than 4 stars. Let's move to the best apps for patients.
Top Medical Apps for Patients
The top 10 medical apps for patients are as follows:
Diagnosis Medical App
Type: medical diagnosis apps
Diagnosis Medical App is a new initiative that blends medicine and computer-generated artificial intelligence produced by experienced doctors from many U.S. university hospitals.
In the form of a virtual dialogue between the doctor and the patient, you can collect questions that you should answer personally. The goal is to find a suspected illness based on the responses you have provided to your symptoms as well as provide you with the specific aspects you need for a future meeting with your actual doctor. Diagnosis Medical App will help you identify how the doctor will evaluate your symptoms.
Features:
Designed by trained physicians from many U.S. university hospitals.
Evaluation of the provided knowledge to find a suspected condition.
Simulated doctor-patient interview with individual questions and responses that match the symptoms.
Advanced artificial intelligence
Support the largest established medical database with more than 1500 variations of symptoms.
Risk prediction for multiple diseases that you may encounter in the future as a plan for the next appointment with your doctor.
Summary from User Reviews:
The users found this app fantastic and accurate for home medication. Doctors can use these given symptoms to predict a patient's disease history. However, it is completely based on its database of symptoms that predict your results. For a better evaluation of your health, you must have to visit your doctor for treatment.
Patient Communicator
Type: patient communication app
Patient Communicator is intended to facilitate contact with patients, relatives, and practitioners. It provides opportunities for easy communication about pain, moods, and needs. It offers an encyclopedia of terminology and other educational resources for patients and families. Patient Communicator software will help to relieve the burden of hospital stays.
Features:
A diary feature that helps patients to keep track of their everyday progress before and after a hospital stay.
A scale that helps patients to describe when they experience discomfort, scratching, and nausea in the body and to convey the severity of these symptoms.
A glossary of terms and conditions that had better inform patients and families about the hospital's intensive care unit.
Summary from User Reviews:
Users found this app super easy to operate and convenient to communicate with the practitioner. Besides, it gives exact meditation when searching for meditation staff.
Belong Beating Cancer Together
Type: app for cancer patients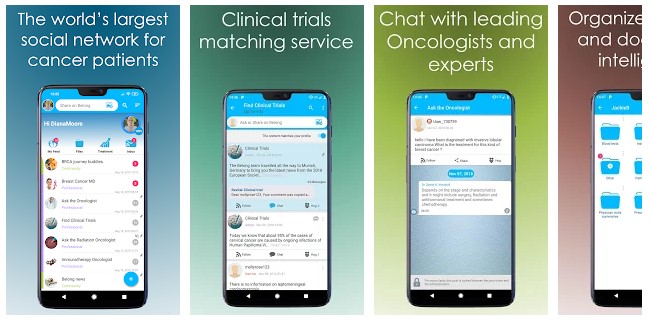 The Belong application is a creative and groundbreaking customized approach for people with cancer and their families to better navigate and combat cancer more actively.
Belong is the best healthcare app for patients, you will discover support groups for all types of cancer, such as breast cancer, prostate cancer, and ovarian cancer. Belong is a knowledge exchange forum for consumers, health stakeholders, and publicly accessible information.
Features:
Access to top oncologists, radiologists, experts, and nurses who can respond to questions.
Assistance, tips, and guidance from a broad social network of others with cancer.
Freedom to arrange and track the data on your mobile device and share it with experts.
The freedom to personalize details and reminders.
Access a comprehensive clinical trial with a tailored service on your form of cancer.
Summary from User Reviews:
Users found this app extremely helpful for people fighting cancer. It's a platform where cancer patients can communicate and share their grief with others to get some courageous statements. However, doctors can talk to patients about their condition to better understand a variety of patients.
Cancer Therapy Advisor
Type: app for cancer patients
Cancer Therapy Advisor is a private and easy-to-use medical software. It provides oncology practitioners with the latest oncology news and current developments. The app also offers cancer care dosing schedules, powerful capabilities, slideshows, case reports, and prescription updates regarding a range of cancer forms and clinical areas. Install Cancer Therapy Advisor free of charge and earn myCME credits when engaging in several continuing education (CE) programs on the Cancer Therapy Advisor platform.
Features:
Learn more about the current developments of being a better oncology doctor
Be more educated when a patient raises a concern
Reference and administer the right medicine for your patient
See patient-friendly slideshows throughout the day
Summary from User Reviews:
The app is highly recommended for cancer patients. Above all of its features, this app gives hope and courage to the patients that improve its rank among cancer patients.
iReferNow
Type: medical appointments app
iReferNow is a mobile app that promotes referral of patients between two doctors intending to optimize continuity of treatment to provide better quality care using innovative methods. This healthcare app for patients is open to anybody who works with patients, whether you are a general practitioner, a specialist, a general practitioner, a community health volunteer, or anyone who provides medical care.
Features:
Streamline the methods of recommendation, matching, linking, and coordinating patient care
Real-time clinician-clinician contact
The electronic rationale for referral
Immediate transmission of referral information
The ability of the physician to accept or exclude patients and to express this decision in full detail to the consultation provider.
Summary from User Reviews:
Users get a super easy and effective experience by using this app. Because of its referral, its user can ask a question from several doctors, and in response, doctors give them answers.
Download for Android.
RecoverBrain Therapy for Aphasia, Stroke, Dementia
Type: speech therapy apps for stroke patients
Each training module within RecoverBrain is flexible and provides workouts that are precise and suitable for you at any particular time. RecoverBrain offers a systematic approach to cognitive therapy with a fixed set of training sessions each day.
Features:
Language Understanding & Cognitive Practices
Deficit-specific, responsive and customized
Designed for all cognitive ages, from very easy to difficult
Very easy levels are very simple and can be run by a child
Seven training devices are fully free – no membership required
No advertising
No configuration or authentication required
No Wi-Fi required until activated
Summary from User Reviews:
This App is found useful and has tremendous impacts on the recovery of patients. People liked the way it works even without a premium version. However, its display should be altered to give some adult feels.
Appointfix: Appointment Scheduling App
Type: patient scheduling app
Appointfix is a free appointment scheduling app that makes life easy for beauty, health, and wellness practitioners. The app allows you to plan meetings quickly using automatic text reminders.
Features:
Advanced & easy scheduling appointment
Customizable calendar
Online booking
Auto text reminders
Easily browse for clients to see their history and future appointments.
Appointments recurring or group
Google & apple calendar sync
Summary from User Reviews:
The doctor and patient both found this app convenient and time-saving. Rather than wasting time on phone call appointments, everything is fixed through the app.
Virtual Practice for HealthCare Providers
Type: patient record app
Virtual Practice is a complete platform for healthcare professionals to support patient involvement and practice management. This smartphone app provides the vital features of Virtual Practice that enable you to monitor your patients and practice anywhere you are. The software is freely available to be downloaded at any time and use.
Features:
Video Negotiation
Remote Healthcare Monitoring
Text-based counselling session
Manage your resources wisely
Enhance patient health outcomes with customized and ongoing treatment
Summary from User Reviews:
This app is fantastic for doctors and patients to manage healthcare. It's super easy to manage the records. However, practitioners can better track their patients.
Bearable – Symptoms & Mood Tracker
Type: medical tracker app
Bearable enables patients to regain control of their health by keeping the mood and symptoms monitoring easy, comfortable, and available to everyone. Entry into our wellness diary is fast and effortless, so you can spend more attention on feeling healthier.
Features:
Everything regarding health monitoring in one location
Reclaim authority for your well-being
Get valuable insight with only a few clicks a day
Bearable also helps you to:
Monitor your mood and signs in seconds, and fully customize your everyday habits and health considerations, such as sleep, food, exercise, and treatment.
Gather knowledge of how your everyday habits and fitness factors affect your mood and signs using our graphics, schedule, and stats pages.
Keep it in one spot with our neat wellness timeline, so you'll get a full view of everything. Utilize our search feature to filter what you'd like to convey to your health care provider.
Attend your next doctor or psychiatrist appointment – no reason to fail to recall a detailed wellness timeline for the past week or month.
Summary from User Reviews:
Users found this app customized, detailed and perfect to detect your symptoms. Doctors advise their patients to install the app and track their daily activities and symptoms.
Medication Reminder & Pill Tracker
Type: health management app
MyTherapy is an ad-free, award-winning pill alert and drug tracker. Therefore, MyTherapy is nothing other than a free medical reminder: Integrating a pill log, mood tracker, and fitness diary. e.g., with a weight tracker, this medical alert tool helps you and your physician to put the progress of the therapy into context.
Features
Pill alert app for all prescriptions
Pill tracker with a record book for missed and reported intakes
Support a full variety of medication-reminder dosing regimens
Monitor your pills, doses, ratios, and habits in a systematic health journal
Family sharing
Share your customizable health report with your physician
Personalized tips for your medication
Wide variety of measurements for all disorders (diabetes, muscular dystrophy, anxiety, stress, asthma, multiple sclerosis), e.g. weight, blood pressure, blood sugar
Summary from User Reviews:
This app works great for people with busy schedules. It reminds them of their meditation and schedules their dosing. However, users encounter it must work better on sharing purpose.
Conclusion
Mobile health apps for patients are an amazing use of technology. As you can see these apps are extremely useful for patients and doctors. Now you don't need to rush through buildings for consultations and appointments. Nor will you keep heavy files of your reports with you. You can communicate with your doctor through video consultation and share your reports with them.
These applications are for almost every disease like diabetes, cancer, anxiety, depression, or any chronic disease. Patients need to remember that these applications still do not fully substitute annual in-person examinations, and patients should still visit specialists when required.
If you're going to create a medical app for patients,
feel free to contact us with any questions.
Together we can create a healthy future!